Winter colour!
As baskets and containers planted with bright summer colour begin to fade they can leave behind a bland, colourless patio. This doesn't have to be the case!
Colourful winter containers are worth their weight in gold during the colder months when beds and borders are looking a tad bare. Containers planted up with a selection of foliage and flowers can brighten up a patio or balcony, giving colour and interest over the cold season.
There is a huge selection of shrubs, perennials, bedding and bulbs to choose from. Although these plants are not as flamboyant as those used in summer containers, you can still make a statement with careful plant selection. Once these plants have outgrown their allotted space or have gone past their best in spring, you can move them to a bigger container or plant them in the garden, making them great value for money.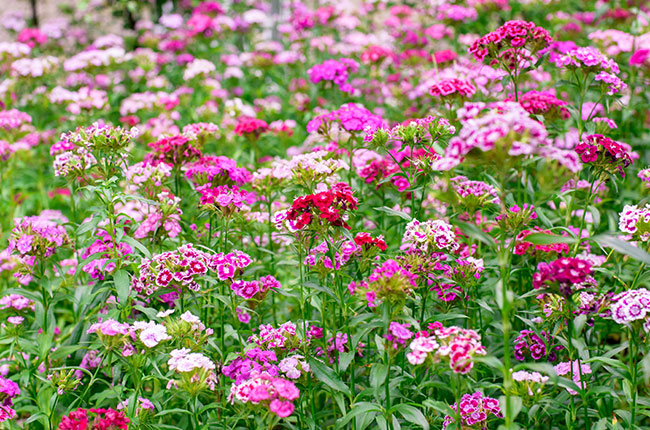 When selecting plants for winter colour look for foliage shapes, colours and textures as well as adding in some flowering plants. Variety is the key to a stunning display. Remember that plants grow very little in winter so make sure you start with good-sized plants and use sufficient numbers of plants for the size of container to make an impact from the start.
Position your container where it will get as much light as possible during the winter months to ensure plant foliage remains green and healthy. Water your containers carefully in winter, making sure you check the compost regularly as it can soon dry out in mild spells or windy weather. Smaller plants are more susceptible to over or under watering. Don't let your pots and containers become waterlogged either. Use pot feet or bricks to raise pots off the ground, choose frost-proof terracotta or containers made of plastic, fibreglass or wood to avoid containers cracking in frozen weather.
It is not necessary to feed container plants during the winter just use a good quality compost in your pots and baskets and this will contain enough feed to last.
---
Plants to use in Winter containers…
• Bedding Plants. There is a wide range of annual plants that will provide bright colour and sometimes scented flowers including Pansies, Violas, Primroses, Polyanthus, Bellis, Myosotis, Wallflowers, Cyclamen, and Dianthus.
• There are plenty of small, colourful shrubs to provide the backdrop to your containers. Choose from Skimmia, Euonymus. Ivies, Solanum, Heathers and Pieris.
• Evergreen perennials add colour and soft textures to your planting scheme. Look for Heucheras, Ajugas, Sedums or Lamiums.
• Ornamental grasses will give texture and movement to your planted arrangement. Carex, Festucas and Pennisetums are ideal.
• Under planting your baskets and containers with spring flowering bulbs adds an extra dimension to your display. Choose from Narcissi, Tulips, Muscari or Iris bulbs.