Perfect Plant Presents!
Plants can make the ideal gift for Christmas, especially for those friends and family who spend much of their waking life thinking about their gardens! While there is no shame in gifting a bouquet of flowers, if you want to give a piece of greenery with some staying power, you're much better off going with a plant. For an extra special touch, choose an equally good-looking pot or planter.
Live plants make such a great present because they are beautiful, make people smile, warm up a room (and sometimes make it smell great too) and are healthy to have around as air purifiers. They come in all shapes and sizes to fit the gardening skill level and preferences of everyone. That said, before you decide to give a plant as a gift, put a little thought into it first. The main thing to consider when choosing the best plant is this; you want the present to be thoughtful, not a point of frustration!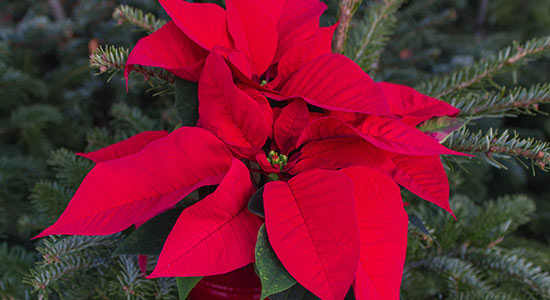 Giving a plant to someone is very special for the giver as well as for the receiver. It symbolises the care and thought the giver has put into it whilst choosing a plant, so choose carefully!
Houseplants and potted bulbs can make the ideal gift for elderly relations or those without a garden. Hippeastrum – or Amaryllis, as it is better known, is a remarkable bulb, with 2ft tall, fleshy drainpipe stems and flamboyant trumpet flowers up to 8" across. Varieties are available in shades of red, white and pink. "Red Velvet" is a lovely deep Christmas red, whilst "Christmas Star" is a bright red with a white star centre and "Pink Flamingo" is a beautiful blush pink. They can make either a brilliant DIY present if you give the bulb in a lovely presentation box and the recipient can plant it in the pot it comes with and watch it grow and flower. Alternatively you can give the bulb ready planted and present it in a pretty pot cover.
If you are looking for a plant to give as a gift that's luxurious and elegant, you can't go wrong with an orchid. There are several types of orchids available today and some people think that they are difficult to maintain. This is not true, there are some types of orchid that require very special care, but there are also plenty of species that are simple to look after and will blow you away with their amazing blooms. Make sure that the orchid you choose is one of the hardy varieties that will not require constant attention. Sometimes called the Moth Orchid the Phalaenopsis is one of the most commonly grown of all the orchids by amateurs. As well as being easy to grow, they are also readily available to buy and come in a huge choice of stunning colours, with many blooms striped, spotted, mottled or blotched. With a little bit of gift wrapping flair they will make a stunning gift.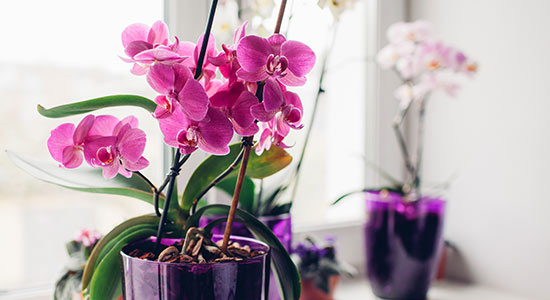 Perhaps the most iconic Christmas plant is the Poinsettia, famous for it's fantastic bright coloured bracts they add a real festive touch to any room. They are the ideal present for the person who likes to keep their home nice and warm. A real hot house flower they like a nice warm temperature and don't appreciate cold draughts so be particularly careful when transporting your plant and make sure it is wrapped before taking out in cold temperatures.
Citrus plants make tremendous Christmas presents. They are often sold with both flower and developing fruit, and are deliciously scented. Lemon and calamondin oranges are the most popular varieties available. Giving citrus trees or citrus fruit is also considered to symbolise wishing good luck or fortune. Citrus trees are particularly symbolic plants and are thought to bestow luck and good fortune on the receiver. In fact the more fruit it has, the more luck and wealth it is thought to bestow! For this reason citrus plants are often given as New Year presents too. They are ideal for those who have an outside space as well as space for a houseplant as they prefer to be kept in a light, frost-free place over the winter and then put outside for the summer.
For those garden enthusiasts that prefer their plants to grow in the garden there is plenty of choice. Scented shrubs like Sarcococca (suitably known as the Christmas Box) a compact, clump forming shrub with glossy green leaves and small clusters of very fragrant creamy-white flowers with crimson anthers in winter followed by black berries are a great choice.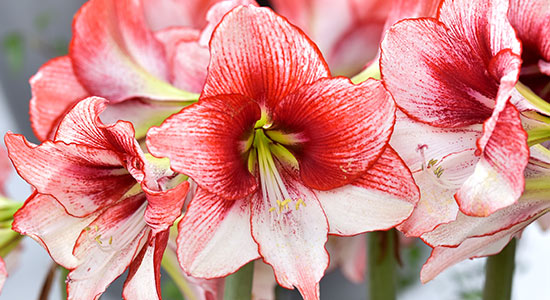 Tree & shrub for gifts
• Laurus nobilis – topiary bay trees are ideal for punctuating a formal or contemporary planting scheme. Their mature leaves may be used fresh or dried in a bouquet garni, for flavouring stocks and sauces. This makes them the perfect gift for gardeners and food lovers alike.
• Buxus sempervirens – tightly clipped box spheres or pyramids, particularly if given in pairs are great for decorating a doorway, a set of steps or pathway with style. Add a beautiful container and they will make a real statement!
• Viburnum tinus – flattened heads of white flowers throughout winter, followed by dark blue/black berries make this shrub an attractive plant to give as a gift. It is perfect for brightening partly shaded areas when little else is in flower.
• Helleborus niger – the Christmas Rose! You will never tire of the spectacle of a plant that flowers in winter, it's large, white flowers appear from November to March, with a magnificent crown of stamens at their heart. They are completely unaffected by cold weather and guaranteed to impress!