Colourful Climbers!
Written by Emma Heard – Bernaville Nurseries
---

Climbers are a versatile group of plants, they can be used to cover fences, walls, trellis, arches or obelisks. Climbers are great for screening unsightly areas of the garden, brightening up bare walls and adding height to your borders. True climbers take up little ground space, and are excellent choices for smaller gardens. You can also train certain shrubs as 'wall shrubs' for the same effect, these will require more ground space though.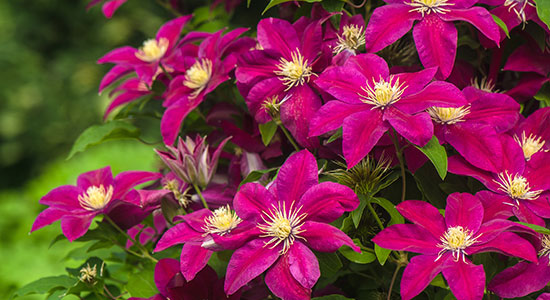 When choosing a climber or wall shrub it is important to consider several facts; aspect, size, hardiness and climbing habit. Some climbers such as Ivy and Virginia creeper are self-attaching and will cling to surfaces naturally via aerial roots, but twining climbers such as Honeysuckle and Clematis will need a framework to scramble over. Wall shrubs don't climb naturally and will need training and tying in to a support. All climbing plants will need some training initially. When planting your new climber or shrub, make sure you plant it 30-45cm away from the base of a wall or fence so the rain can reach the base of the plant. Use a series of horizontal or vertical wires, or trellis attached to the wall to provide support for your climbing plants. Tie in new shoots with soft garden twine. Garden structures for climbing plants need to be strong and secure as plants can become very heavy with age. Water well during periods of dry weather in the first few years after planting. Remember that plants against walls or under eaves may not receive much rainfall. Feed climbers in spring with a high potassium fertiliser. Regular pruning keeps climbers and wall shrubs attractive, floriferous and tidy. Some climbers and wall shrubs, such as Campsis, Clematis, Honeysuckle and Wisteria have particular requirements.
Clematis are one of the largest and most well-known group of climbers. From bold blooms the size of tea plates to delicate nodding bells adorning a garden arch, Clematis are versatile and colourful; climbers that no garden should be without. Whether left to clamber up a trellis panel to cover walls and fences or trained over a pergola, Clematis are a wonderfully diverse family with varieties to choose for flowers in every season.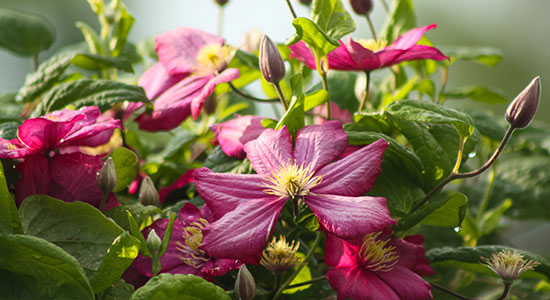 Large-flowered hybrids are some of the most impressive, coming into their own during the summer months, and these are joined by daintier flowering varieties of Clematis viticella that continue blooming into autumn. Dozens of Clematis varieties are available with new ones being added every year, so visit local garden centres and nurseries to pick the one that appeals. Colours and forms vary widely with something to suit every colour scheme. Most enjoy their heads in the sun, but some like Clematis Hagley hybrid will grow in semi-shade. Many Clematis can simply be planted in amongst shrubs and left to grow up through them for support. Some of the best suited for this are varieties of Clematis viticella whose summer flowers are followed by fluffy seed-heads. Not all Clematis are climbers, so look out for shorter non-climbing and herbaceous varieties for your borders. Why not grow Clematis in large pots to create a focal point on your patio, choose a compact variety to grow in containers, trained up an ornamental obelisk or wigwam of canes.
Clematis are often partnered with climbing roses and honeysuckle up pillars and pergolas to create long-lasting flower displays, but vibrant combinations can be created with virtually any other climbers or wall shrubs. Clematis like their heads in the sun and feet in the shade. Plant them so that the soil round the roots is shaded to keep them cool, training shoots up into a brighter, lighter space above. Always plant summer-flowering Clematis deeper than they were growing in their pots. Dig a deep hole so the top of the rootball sits about 7-110cm below the soil surface and bury the base of the stems with soil. This can help plants regrow if they suffer from Clematis wilt disease. Spread a deep mulch of compost or bark over the soil after planting to lock in moisture and protect from the sun to keep roots cool.
All Clematis belong to one of three pruning groups depending on when they flower. Talk to the experts at your local garden centre to find out which pruning group your Clematis belongs to and get advise on exactly how and when to prune.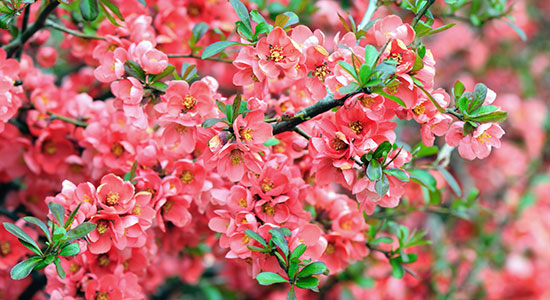 Shrubs to grow against walls
Chaenomeles are deciduous, usually spiny shrubs with simple leaves and cup-shaped flowers that appear in spring followed by edible, often fragrant green or yellow fruits.
Cotoneaster horizontalis is a spreading, deciduous shrub that will spread up to 8ft. Its small pink/white flowers are followed by attractive red berries. Grown as an espalier against a fence or wall gives a dramatic effect.
Pyracanthas are usually strong enough to hold themselves against the wall, but would benefit from being tied in. Prune the current year's growth in late summer to allow the bright fiery berries to be seen in autumn/winter.
Ceanothus are ideal shrubs to plant against a wall or fence as they prefer drier soil conditions and little support. Most varieties are evergreen and have stunning blue flowers in May/June.
Climbers suitable for growing in containers
Tropaeolums are related to the more common nasturtium. They have a long flowering season starting in July and lasting until the frosts.
Jasmine climbers can add an oriental perfume to your patio if grown as a specimen in a large container and trained up a wall.
Clematis Bijou is an unusual mound-forming Clematis, perfect for growing in containers on the patio. It bears large, violet-purple flowers with a pink central bar on each petal from early to mid-summer.
 Wisteria can be grown in a large pot. Choose the largest pot possible, as repotting will be difficult. Use a good quality compost and add a slow release fertiliser and some water retaining crystals for the best possible results.