Small is beautiful!
---
Modern housing has led to smaller gardens. It can be hard to know what to plant in a small space. Alpine plants come into their own here; a wide range can be grown in a limited space. They look great in rock gardens, raised beds and crevices.
It's a common misconception that alpine/rockery plants are difficult to grow. This couldn't be further from the truth! Due to their resilient nature, alpines make the ideal plants for amateur gardeners. Most alpines are easy to grow in the garden with minimal maintenance.
Alpines originate from high altitude regions above the 'tree line'. There is good drainage and usually cold, dry winters with high light levels. In gardening terms however, 'rock plants' embraces not just alpines but also includes smaller shrubs and perennials that – because of their modest stature – look good in a rockery too.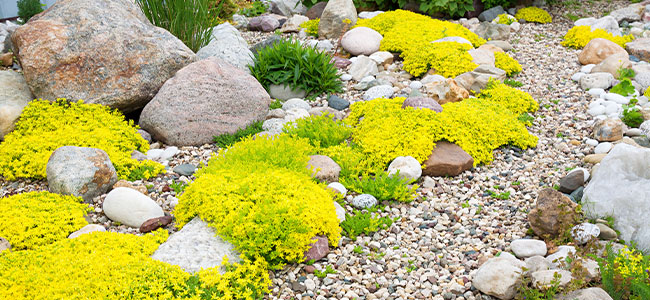 When choosing a spot for your alpine garden bear in mind they need plenty of sun and a certain amount of protection. Choose a sheltered spot away from strong winds and exposure to the fiercest elements.
Building a rock garden (or rockery) extends the range of plants you can grow by creating a specialist environment for alpine species. Alpines grow on rocky mountain slopes where the drainage is good and there is plenty of light. By using carefully placed rocks you can mimic these conditions in miniature, a large rock set at the right angle will create both north and south facing slopes, for example.
First you need to choose the right location for your rock garden. It should be well away from trees and shrubs so that it gets maximum light levels. A rock garden can be as big or as small as you want. If you're gardening on a grand scale you may need to hire earth-moving equipment to shape the land and lift boulders, on a smaller scale you can manage with ordinary garden tools. A rock garden can be built on level ground or on a slope, and is an ideal way to cope with a steep garden, front or back. To build on level ground either dig down or create a small mound. You could also build a miniature rockery in a raised bed or a container such as a large pot or an old sink.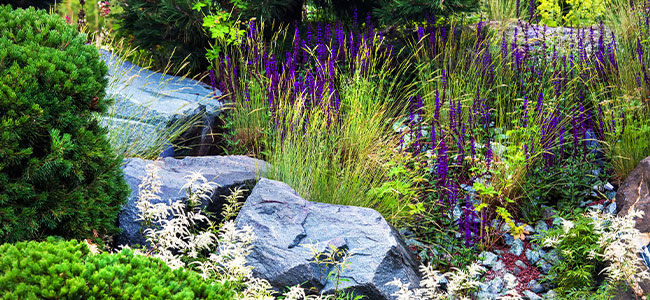 You don't have to scale the heights to create an alpine garden – just pick the perfect mountain plants. Raised beds are the ideal home for alpines. They are very adaptable – simply design one to suit the rest of your garden. An island bed in an informal shape, made with low dry-stone walls, would be ideal for an informal cottage garden, while a rectangular horse trough, made of old bricks or railway sleepers is a creative way of filling dead spaces next to a wall, greenhouse or out on a patio.
Raised beds can be filled with topsoil or a John Innes compost mixed in equal parts with gritty horticultural sand or small pea-sized gravel. When selecting your plants, choose a mixture of sizes, textures, colours and shapes – this will provide something of interest for every season. Include a few evergreens (such as Sempervivums and Saxifrages), mat-shaped ground huggers, as well as choice spring bulbs and dwarf shrubs. Position them roughly so you can see the effect before planting them properly. Plant so the top of each root ball stands out of the ground about 1cm/1/2". When they are all in, finish off by spreading a layer of slate or pea gravel between the plants. It shows the plants off superbly, but it's also practical – keeping weeds under control, deterring slugs and snails and helping with drainage.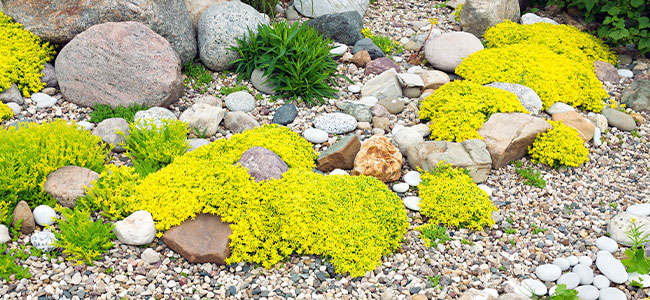 Planting alpines and rock plants into sinks and troughs is a perfect way to provide the well-drained soil conditions and open sunny position they need to thrive. Stone sinks are traditional for planting into, but it is quite acceptable to make the stone work yourself and apply it any rigid container such as an old glazed sink. When planting a sink, fill the trough with compost leaving a gap of 2cm/3/4" to accommodate a grit dressing after planting. Arrange a few 'architectural' rocks to suit the scale and eye. When planting leave plants a little high to allow a layer of grit/gravel. This helps to conserve moisture, prevents heavy rain splashing soil on flowers and reduces the risk of stem rot. Do not allow troughs to dry out, especially during the first growing season. During the plants resting time no additional watering will be necessary in normal winter conditions, but watch out for the drying action of frost, especially as some alpines start root growth in very early spring.
---
Things to consider when planting alpines…
• Good drainage – dig a two inch layer of grit into the top six inches of soil.
• Mind the roots – alpine plants have long roots, tease the roots apart when planting new plants.
• Water – once you've planted your alpines, water them thoroughly.
• Upkeep – if your soil is heavy, a layer of course gravel on the surface increases the life expectancy of some alpines. This is because alpines often don't like to be wet at the neck (where the roots join the stem).