New Beginnings!
Written by Emma Heard – Bernaville Nurseries
---
March is the first month of spring and a month of new beginnings in nature. A time to welcome back some familiar faces in the garden. We are looking forward to warmer days, but snow, frost or torrential rain are not unusual. There is no way of knowing what is heading our way, but one thing is for sure, the flowers belonging to this month can cope with anything and promise to add colour and that feeling of spring, whatever the weather.
The plants and flowers that really shine in March tend to be spring woodlanders, which bring early colour and nectar. They perform just before the leafy canopy closes overhead and you can plant them in areas that are quite shady for most of the year.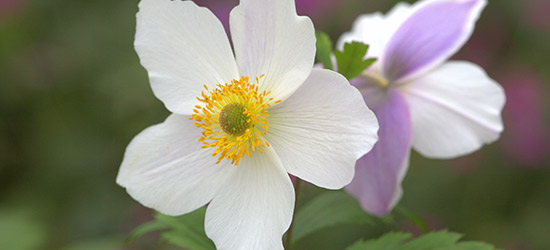 No spring garden would be complete without daffodils. The daffodil has long been a symbol of new beginnings and the start of spring. There's hundreds of different daffodils to choose from, but if space is an issue, look no further than the dwarf daffodil Tete a Tete. Plant it with blue muscari and your pots and containers will offer weeks of colour. Although bulbs of these plants should be planted in autumn, they can be bought as potted plants now.
Anemones are a popular choice for dappled shade. There are many different types of anemones, but the ones that bring early spring cheer and thrive under deciduous shrubs are the wood anemone, Anemone nemorosa. They are a great addition to a woodland setting, but don't confuse these subtle flowers with the brighter, open-eyed, sun-worshipping Anemone blanda. Anemone nemorsa come in pale colours (white, pale pink or soft blue) and the cupped flowers are formed by large rounded petals rather than straight rays. Good forms include 'Robinsoniana'. Wood anemones increase slowly, developing deep balls of red roots. The time to separate them is in the autumn, just as they are breaking dormancy. You can either pot the pieces of root up or bury them carefully in another shady part of the garden.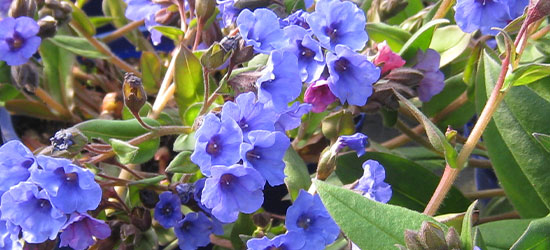 March flowers are extremely important to bees, particularly solitary bees and honey bees as they provide nectar and pollen. The best nectar plant for early spring is the Pulmonaria and these will provide good attractive foliage and clusters of flowers that come in shades of blue, ice-white or pink. Pink and blue flowers often appear at once giving rise to the common names of Soldiers and Sailors and Bloody Butcher. These promiscuous plants hybridise and set seed quite freely. To prevent seedlings cut off the flower heads as soon as they fade. They are best deadheaded to discourage seedlings. They can be given a haircut at the same time. Water them well and within 10 days they will produce new foliage. Pulmonaria foliage varies from plain green, to all silver, to freckled and spotted. The linear shape of the leaves has earned the name of lungwort and they were thought to cure lung disease. They were grown in monastic gardens centuries ago for medicinal reasons. However there is no scientific evidence to support their medicinal use today.
Primroses are synonymous with spring, and can bloom from early February and then throughout March and April. Primroses are part of the Primula family, named from the Latin 'prima rosa' meaning first rose, the first flowers to appear in the spring. Primula vulgaris are the British native primroses frequently found growing in hedgerows or in a coppiced woodland. This environment is perfectly mimicked in the garden by shrubs such as cornus and willow, which are pruned hard every few years to produce brightly coloured stems, and there are few gardens where primroses will not find a comfortable corner and modestly shine their delicate glow. Although most commonly associated with a pale-yellow colour, the plant occurs quite naturally in every shade from pure white to orange. They are easy to grow as they thrive in clay, chalk, loam and sand, making them ideal for any garden. Aside from that they prefer well-drained soil and grow perfectly in semi-shade under hedges, trees or adjacent to walls. Even perhaps as part of a wildflower meadow or with a spread of bluebells.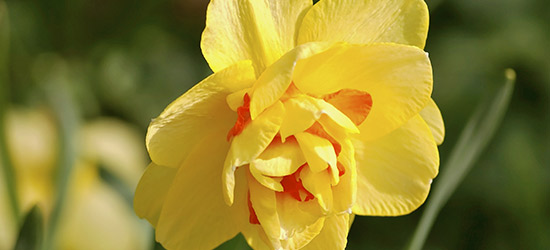 Now winter is nearly over, there is much to do in the garden….
• Now is the time to plan ahead with summer bedding. Plug plants are an economical choice and available now, you don't even need a greenhouse to grow them on, a sunny windowsill will be enough.
• If the soil is workable, dig in a layer of compost or well rotted manure to your borders, you can also add a general purpose fertiliser such as pelleted chicken manure or fish, blood and bone.
• Plant summer-flowering bulbs such as lilies and gladiolus now.
• Lift and divide established herbaceous perennials and plant new varieties now.
• Feed roses with a specialist rose fertiliser.