December at Bernaville
The start of December may seem like you have very few hours of sunlight to manage your garden tasks but ahoy, longer days are on the horizon after the 21st and this is the opportunity to help our wildlife friends out where we can. Keep fresh water and birdfood available for the wild birds and potentially make your own bug hotel indoors whilst it rains, we need our native pollinators as much as they need us!
Tony's top tip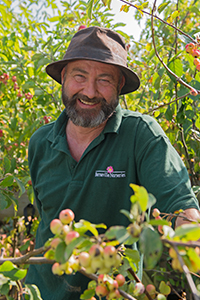 Plant a tree in '23! It doesn't matter what type of tree you choose small or big, just go for it before the soil gets too solid with the dropping temperatures! First prepare the area and dig a hole usually twice the size of the pot your tree has come in. Sprinkle a good handful of mychorhizal funghi into the hole and then pop your tree out it's pot and into the soil! Fill in the gaps with more compost and give it a good firm heel in to make sure it's stable. Give it a good soak and make sure it's getting plenty of rainwater whilst it establishes itself so you can enjoy your new tree for years to come!
Gift Idea
New for 2023 we have collated a Christmas Gift guide with something for everyone! Click on the image below to discover the perfect present for every gardener, family and foodie in your life!