Local delivery service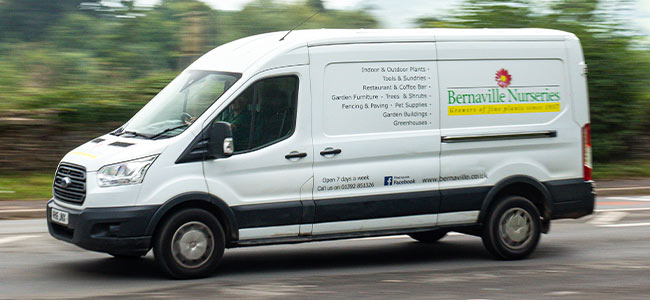 Select your area from the list below for our delivery price
Delivery for items for oak furniture, paving packs and bulk aggregate are charged at £25.00 plus the area rate. This is due to the delivery requiring 2 members of staff.
---
Delivery charge will be based on your location. Deliveries can only be made if the vehicle has sufficient access and hard standing for safe unloading. We cannot offer a timed delivery service, but we will endeavour to offer morning or afternoon delivery. We will deliver goods to a convenient location for our vehicle. However our delivery staff will only unload to a safe and accessible area of hard standing at their discretion. This is to prevent injury to our staff or damage to your goods.
Recycling
Please ask our drivers at the time of delivery, if you would like the packaging from your order to be taken away for recycling.
---
Carry to the car
We offer a carry to the car service for our larger/heavier items including compost, bark, aggregates & paving. Please ask a member of staff in store for assistance.
---